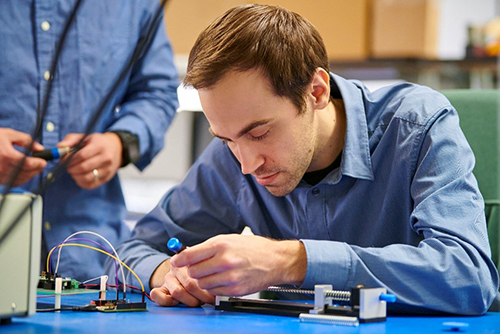 Sterling Medical Devices, a fully staffed U.S. based medical device engineering firm, is entirely dedicated to helping our clients resolve medical device design and development challenges – from concept through completion – by applying our expertise in the industry since 1998. Our medical device development group addresses the whole development process: systems, software, electronics, mechanical, quality, and compliance.
Our staff consists of teams of medical device designers, medical device developer experts, and certified project managers, working exclusively on projects in the medical device design and development industry. We incorporate the most current FDA guidelines and regulations, best practices and latest tools in the industry for your development projects – or any parts of it, based on your company's specific needs. We can help you optimize your budget and shorten development times for your Class l, ll, or lll device using the latest tools and technologies. If you have a technical issue or other challenge that is delaying your current project, we have the resources and expertise to jump right in and get your project back on track. Our approach allows our clients to get to market faster, streamline the regulatory process, minimize risk and save costs.
Unlike some of our competitors in the medical device design and development industry, we do not have a stake in the manufacturing revenue stream, so we do not reuse work that is not optimized for the product simply to move more quickly to the manufacturing phase, leaving you to defend design risk challenges to your product. We adhere to budget and schedule while designing our clients' products with a focus on user needs, requirements, all the while making smart design choices based on our extensive and diverse product development experience. 
Helping You Meet Regulatory Goals
Sterling Medical Devices is ISO13485 registered, IEC 62304 compliant as well as ISO 14971 and IEC 60601-1 compliant, so the work product we produce for our clients is consistent with the highest industry standards. Don't yet have a quality system? You can rely on ours while in the process of achieving your own. Or, if you prefer, we can work with your team to develop your own quality system in a cost-effective manner. Our clients often leverage our ISO certified QMS, IT infrastructure, and experience.
Sterling owns and licenses the most up to date and advanced state-of-the-art tools and validated equipment and employs it on its clients' projects so they can benefit from increased accuracy, efficiency and latest technology applied in tools. Sterling also offers its clients extensive IT infrastructure and real time backups of their work that is also transparent to them in real time. We own leading edge collaboration tools and use them in house.
Sterling offers the following advantages to its medical device design and development clients:
U.S. based full time engineering staff
Validated tools, staff trained
Experts in regulatory concerns
Extensive IT infrastructure/real-time backup
Leading edge collaboration tools » polarion and skype for business
Engineering/design focused with design for manufacturability
Transparent, customer focused
Next generation project management
Project experience with companies from startups to the well established
Startups leverage our ISO certified QMS, IT infrastructure, and experience
The well-established utilize our talent and expertise to get the job done right
Certifications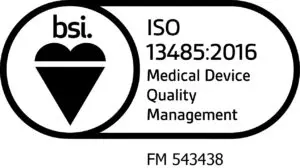 ISO 13485 Certification – ISO 13485 is an internationally recognized quality standard for the medical device design, development, production, and the sale of medical devices. To be certified, organizations must demonstrate an ability to provide medical devices and related services that consistently meet customer and regulatory requirements. In addition to approving Sterling's quality systems and practices, ISO certification allows our customers to streamline their auditing process.
Medical Device Design and Development Industry Affiliations
As a forerunner in custom software solutions for the medical device design and development industry, Sterling Medical Devices is affiliated with the leading industry associations.