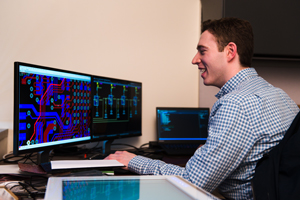 Searching out improvements in quality, though valued, is often neglected during the development process due to weak quality controls. A focus on production without a stringent Quality Management System that goes beyond standard protocols may adversely affect the reputation of a firm and its ability to perform, whether that means decreased consumer confidence, compliance issues, corrective actions by the FDA/EU, or insolvency. Since 1997, the FDA has taken strides to revolutionize the implementation of quality systems by creating the Quality System Regulation standards—standards that Sterling has followed suit throughout our practice since our founding in 1998. Sterling's FDA compliant processes provide clients guidance through complexity to achieve a successful medical device that sets the bar for high quality in the industry.
Quality systems create the organizational structure for responsibilities, procedures, and resources of implementing quality management. With quality control, testing and inspections are done on components and finished products that go beyond the basics of verification and validation. At times, culture shifts and simplifications from tedious and unnecessary processes can greatly improve the productivity and cost-effectiveness of development.
Gap Analysis
Sterling's gap analysis is a comprehensive method of looking at every level of management in a quality system to effectively allocate resources. Risk analysis is utilized in conjunction with quality system management for a safe, reliable, and repeatable process. The "gap" aspect is when the comparison of previous standards and ideal future standards are reviewed. The goal is to bridge that gap to translate ideas into reality. Sterling's in-depth experience in the modern medical device field becomes a substantially beneficial factor to gap analysis. Historical evidence is researched as well as assessed to Part 11 & HIPPA requirements. Quantifiable standards that streamline development procedures help identify critical areas in your system.
An Outlook of Dedication
Sterling's role in independent auditing gives you the flexibility to work with a quality system that is optimized for your needs. Whether it's creating a quality system from scratch with our team, remediation and reconstruction of an existing one, or relying on one of our own formulated quality systems, Sterling considers quality a serious component to product development and remains flexible in its approach. Our team has the patience and proactive mindset to resolve issues swiftly, whereby client needs are prioritized, and waste is reduced. Medical devices should not only fulfill uniform quality framework standards, but efficiently maintain quality throughout its existence in the ecosystem.
With our familiarity of FDA regulations, Sterling helps relieve excessive regulatory burden by targeting specific aspects as valued by the industry. At times during the process, FDA roadblocks may delay quality approval without a clear means of how complications can be solved. Sterling not only pinpoints quality errors, but also provides the knowledge to improve the device, the system, and/or the development process. Official quality assurance by auditors improves brand reputation in the industry as a whole—for audience and investors alike—by highlighting to users that the product excels in its purpose.