Contact Us
Close Form

Interested in learning more about how we can work together in your current or next medical device design project?
Just fill out this form and we'll be in touch!
Wherever you are in your product development lifecycle,
Sterling can help.

P: 201-877-5682
F: 201-301-9169
info@sterlingmedicaldevices.com
From a one-person shop to a leading MedTech innovator: the journey of Sterling Medical Devices
Author: Lorena Mosquera | Date: May 25, 2023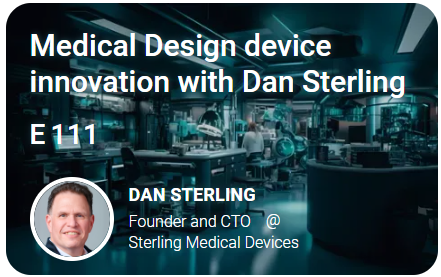 Meet Dan Sterling, the founder, and CTO of Sterling Medical Devices, whose unwavering passion for software development propelled him to build an exceptional company from the ground up. With a background in electrical engineering, Dan's unique skill set became the driving force behind the success of Sterling Medical Devices.
This blog post will explore how Sterling Medical Devices, a prominent company in the industry, provides a wide range of services to assist medical device companies in developing and maintaining their products while ensuring regulatory compliance. We will also delve into Dan Sterling's insights about his company's journey.
Watch the full interview with Builder Nation here.
Share this!