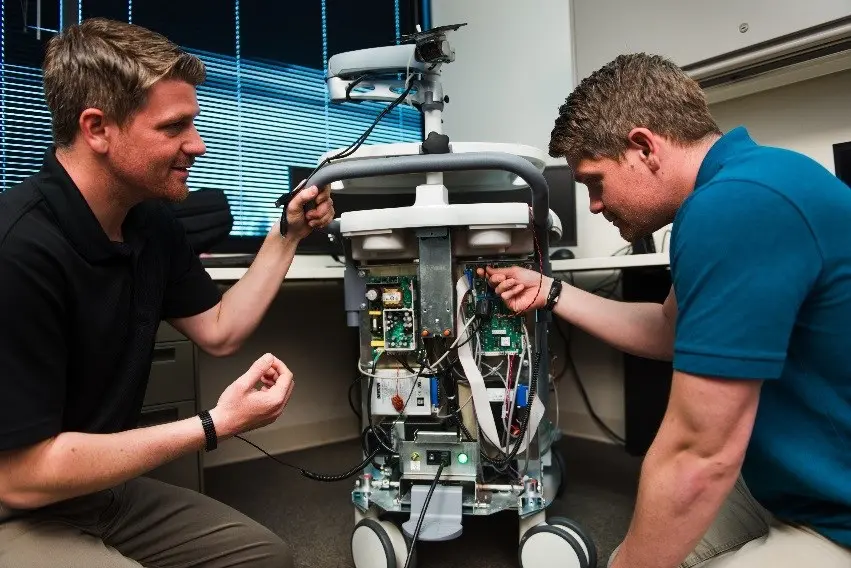 The medical device industry is one of the most heavily regulated industries in the United States due to the risks that users of medical devices can face without proper regulations and requirements, and these circumstances make medical device tool validation one of the most important parts of a device's lifecycle. Sterling Medical Devices possesses specialized knowledge in medical device tool validation and is very familiar with FDA/CE regulations and guidelines.
A company's end product directly effects a patient's level of safety while using the device. This factor makes the transparency of a device's developmental lifecycle exceedingly important because regulatory agencies need to see how defects in the device were handled during the developmental stages, as well as the requirements implemented for potential issues and claims. The high levels of regulation within the market leaves developers of these products looking for partners that are well-versed in medical device tool validation services.
Sterling is equipped with different methods of medical device tool validation which gives our team the opportunity to see which methods fit best for you and your device. We are then able to use those methods and begin to produce medical validation documentation (i.e. detailed requirements, test protocols, test reports, etc.) that are compliant with regulations and industry standards.
Sterling's medical validation templates comes with expert support to help your team customize and execute tests efficiently, depending on the needs of your company and device. Sterling has been developing industry experience since 1998, ensuring that your device will be appropriately validated to meet FDA/CE regulations and guidelines.
Some of Our Medical Device Tool Validation Services Include:
Polarion: an application that enables development organizations to streamline, automate, and optimize different parts of the development process. Polarion allows clients to compile data for given projects, collaborate around a common goal, check compliance across different stages of the lifecycle, streamline development across different operations, and it offers its users complete access (whether it be on premise or in the cloud).
SVN (also known as Apache Subversion): a versioning and revision control system. It can be used by developers to keep track of changes made to files and/or folders and assist in the facilitation of data recovery. Sterling Medical Devices uses this program specifically to ensure that all phases of your medical device's lifecycle are easily and efficiently documented.
Enterprise Architect: a visual modeling and design tool that supports the construction and design of software systems, and modeling industry-based domains. Sterling Medical Devices uses this program not only to create software for products, but also to model the implementation of different criteria across a full application development lifecycle.
Coverity: a brand of software development products that primarily consists of static code analysis and dynamic code analysis tools. These tools equip engineers and other team members with the ability to detect security vulnerabilities, as well as defects within custom source code. Sterling Medical Devices applies the information gained from Coverity to the future development of your medical device.
Altium: software that is most commonly used by engineers that design printed circuit boards (PCB). Altium showcases design software that intertwines all aspects of the PCB design process, which sequentially leads to consistent connection to every aspect of your device's design.
Solidworks: a solid modeling computer-aided design (CAD) and computer-aided engineering (CAE) computer program. This program aids engineers in the developmental process of medical devices by rendering 3-dimensional models of the devices. Programs like Solidworks are an essential part of the developmental process because they give your team an opportunity to see where its device may have defects, and how changes to counter those defects will in turn affect the device.
MatLab: a programing platform designed specifically for engineers and scientists that is based predominantly on a matrix-based language allowing a natural expression of computational mathematics. MatLab has the main functions of analyzing data, developing algorithms, and creating models and applications. These functions are utilized by Sterling Medical Devices to ensure that your device is on track to receiving the sought-after FDA or CE approvals.
Labview: systems engineering software for applications that require test, measurement, and control with rapid access to hardware and data insights. These systems offer a graphical approach that aids in the visualization of your device, including hardware configuration, measurement data, and debugging.
These are only some of the different medical device tool validation programs we offer, so if you are wondering if we support a medical device validation service that is not on the list please contact us.
Training Services
After working with our clients to customize tools for their needs, Sterling trains the client's personnel and new hires on how to use the tools effectively across their businesses. Sterling is able to use their experience to ensure that clients are using these tools correctly which could save you time and money during your medical device development process. We are able to offer:
Documentation services, including work instructions and standard operating procedures compatible with an existing ISO compliant quality system
Training sessions for team members on how to effectively use tools as customized for the client's business needs and workflows
Training sessions for management about reporting and project management
New hire training
Medical Validation Throughout Your Device's Lifecycle
No matter where your company is within a device's lifecycle, Sterling can help. Our multiple options for medical device tool validation let our clients customize what they believe is necessary for the development of their specific device, and our training services let clients learn the medical device validation processes for future implementation throughout their own company. Sterling can also assist you with medical device software validation as well as validation for your hardware, or electrical components of your device.