Intersecting Electrical and Mechanical Development to Develop Better Devices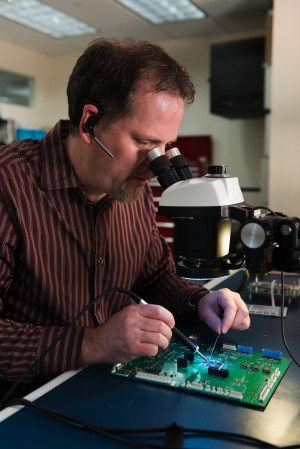 As medical devices become increasingly complex in functionality, medical device companies seek reliable partners for their medical electronics projects. Hardware engineering is often required for many of the medical devices we develop for our clients. Since both are crucial to the development of a device, we have created systems to help clients during their device's development process.
Our expert engineers have designed electronic and electromechanical systems with performance, reliability, cost, manufacturing, and regulatory compliance in mind. Our team of experienced engineers offers specialized skills and abilities for a wide range of medical device electromechanical development projects, focusing on a product scale from table top sized equipment to implantable devices.
Tailoring a Unique Development Process for Each of Our Client's Medical Devices
As a part of that focus we recognize that different approaches are necessary for different types of projects and we help you every step along the way to determine the best approach for your project. For example, it may make more sense to use an off-the-shelf / open source type OS with a Single Board Computer and then pair it with a smartphone app; where in other cases a customized approach controlled down to the microcontroller level and connected wirelessly to a PC / tablet running custom software may better deliver the desired system level control (with the proper degree of risk mitigation) for that particular set of product needs.
Sterling Medical Devices can help you address your electronics challenges at any phase of the development process, whether your product requires a conventional design or an advanced integrated architecture. We help customers, ranging from startups to Fortune 500 corporations, in all facets of Class I, II, and III electronics development by minimizing risks, overcoming time and budget obstacles, and maximizing chances of a successful FDA & EU approval process by doing things right the first time. We have experience doing electro-mechanical development on every device whether it is a table top, handheld, cart based, or wearable medical device.
Ensuring a Proper Quality System for Your Electro-Mechanical Development Process
Working with Sterling also allows you to develop your device under Sterling's quality system. Sterling is ISO 13485 registered, and its quality systems and practices are compliant with standards IEC 62304, ISO 14971, 93/42/EEC, and IEC 60601. Therefore, Sterling's ISO certifications allow its start-up and established medical device customers to streamline their auditing process and speed up regulatory approvals.
Leveraging Our Experience to Develop the Best Medical Device for Our Clients while Minimizing Cost and Time
Sterling Medical Devices' engineers have wide-ranging experiences, including designing and working in manufacturing environments. Our team is highly innovative, offers decades of medical industry experience, and brings with them a large body of technical knowledge that includes engineering applications, manufacturing transfer, manufacturing pilot-runs, troubleshooting experience, and reverse engineering capabilities. Additionally, our engineers have experience in analyzing and designing electrical circuits and systems.
Our experience in developing complex electro-mechanical systems with embedded firmware includes:
Analog and Digital circuit design

Complex analog filtering
Signal conditioning and impedance matching
Analog to Digital and Digital to Analog converters
Switching AC and DC power supply design/characterization
Bluetooth (classic and low energy)
High and low-frequency RF communication (custom NFC solutions, MedRadio, RFID, etc.)
Wireless battery charging
8 bit up to ARM/Blackfin microcontrollers
OTS Sensor integration

Custom flexible heaters and temperature control
Precision Motion Control using DC stepper motors and encoder feedback
Multi-layer Printed Circuit Board (PCB) design
Circuit and battery analysis/characterizations over a varying system and environmental inputs
Resolving electrical noise and circuit instability
Ability to mediate failure problems/root cause analysis
System tear down and reverse engineering
Mitigation of EMC and ESD failures for IEC60601 / IEC61010 / IEC60950 standards testing
Risk-Based Medical Device Electronics Development
Whether using a higher-level RTOS or controlling the software functionality through lower-level programming, we employ a risk-based approach to medical electronics development. We leverage our extensive experience in developing medical electronics to help you identify potential risks in your project and identify the right architecture approach for your products. And we have experience in mitigating for ESD, high-frequency, and low-noise.
Safe and Effective Medical Device Hardware Designs for Innovative Medical Device Products
Ensuring your medical device electrical and electromechanical designs are safe and effective requires a high level of expertise and razor-sharp focus on quality. Our team of engineers and project managers work closely with you to select or design the right medical electronic technology components to make your medical device products more reliable, efficient, and ready for FDA and CE Mark review. Different hardware devices we have worked with include wearable medical devices, tabletop medical devices, handheld medical devices, and cart based medical devices.
Why Sterling?
Why choose us as your medical electronics design and development partner? Our company has been providing medical device design and development services for decades, adhering to the highest and most rigorous standards for medical devices design and development in the industry.
Our experienced medical device development electrical engineers, software developers, mechanical designers, system specialists, and project managers can help drive your medical electronics development process by:
Adding value to your medical device project at any phase of the medical device hardware development process; from design to engineering to testing and more.
Ensuring that your 510K, PMA, and CE Class I, II, and III devices result in successful submissions.
Benefiting from our established and registered quality system.
Since our founding in 1998, Sterling Medical Devices has demonstrated expertise in delivering medical devices and related services that are aligned with customer and regulatory requirements.
Sterling Medical Devices offers proven, end-to-end medical device development and design experience to help you at any stage of your medical device project. It's never too late to get us involved. Let us show you how we can add immediate value to your medical device development projec