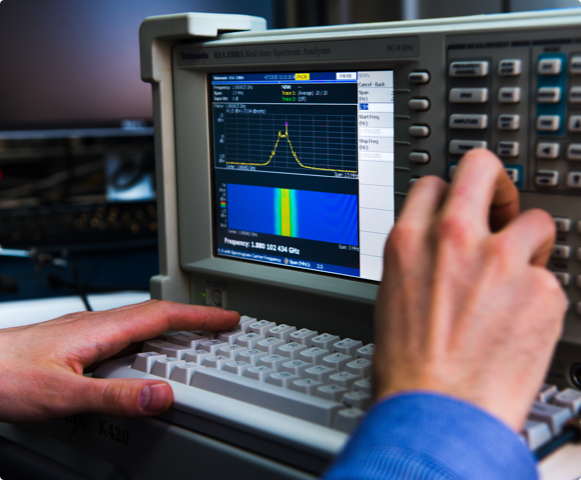 Medical device software development is an evolving field within the medical device industry—growing more complex each day to keep up with the need for enhanced patient care and therapies. Sterling Medical Devices will guide you through every step of the medical device software development lifecycle to ensure you develop a safe, effective, and FDA/IEC 62304-compliant product.
Our advanced expertise includes:
Full lifecycle development
Software verification and validation testing
Design history file (DHF) remediation
Expert testimony
Independent medical systems verification/validation to support your submissions
Unit module and integration testing
FFPGA design and development
Algorithm development
Specializing in Medical Device Software Development Since 1998
We will help you align your medical device software development efforts with FDA expectations for faster regulatory approvals. We are ISO 13485-registered and -compliant, and we meet the following standards:
IEC 62304 – The FDA recognized CE mark requirement for medical device software development.
ISO 14971 – The standard for managing risk for medical devices.
IEC 60601 – A series of technical safety and effectiveness benchmarks for medical electrical equipment.
Risk-Based Approach to Medical Device Software Development
According to the FDA, most medical device recalls are related to software design failures. As your trusted partner, we'll work with you to address your medical device software design challenges and streamline the FDA review process. We'll help you understand the intended use of your medical device software, the FDA medical device software level of concern, and the associated requirements to ensure a safe, secure, and compliant device.
Our medical device software and app development expertise includes:
Mobile (App): Ensuring your mobile device application works on Android and mobile Apple devices presents a series of unique challenges that must be well understood to ensure a safe and effective medical device. Our medical app developers have extensive experience designing medical device applications for iPads, iPhones, and Android-based medical devices. We are also well versed in the verification and validation protocols for mobile medical device software and systems.
Cloud/web: Sterling Medical Devices creates reliable, cloud-compatible devices. Through testing and regulatory processes, we'll help ensure that your device functions properly according to its intended use and is safe for patients and users.
Medical device firmware: Embedded medical device software design is a significant step within the development process, as each medical device must have a reliable, real-time operating system interface and controls for its subsystem. Our firmware experts at Sterling Medical Devices will design and implement embedded medical device software that addresses the needs that are unique to your device.
IoT in medical device software: The Internet of Things for Medical Devices (IoT-MD) promotes the quick flow of information and enables easy access to the patient and the healthcare environment. As your medical device software development partner, we will help you produce these technologically complex products with speed, precision, and compliance.
Windows/RTOS/ Linux in medical devices: Operating systems are important to the development and functionality of any medical device. Our team will focus on the most important aspects of your device, guide you through the development process, and prove the consistency of its software and operating systems through testing and validation processes.
Cybersecurity: In our mobile world where devices are becoming more connected than ever before, cybersecurity concerns are on the rise. We'll help you eliminate extraneous device elements that could threaten your medical device's cybersecurity and create vulnerabilities.
Dedicated Team, Committed to Efficiency and Transparency
Our seasoned team of engineers holds a wealth of experience and is committed to ensuring the job is completed correctly the first time. Whether serving as your full-time development team or aiding your existing team with any area of need—from documentation and testing to risk management and development—we will keep you well informed and involved throughout the entire medical software development process.
To learn more about how our team can help you with medical device software development, contact us or call 201-227-7569.