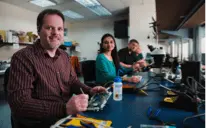 Sterling, for decades, has helped create medical devices that are safe for their users and meet FDA/CE regulations and requirements. Sterling is able to ensure this for its client's medical devices by undergoing robust usability testing. Having seen hundreds of medical devices, Sterling is able to create customized testing plans for clients. These customized plans make sure their devices are safe for its users, meet the proper standards, and they ensure that clients do not spend unnecessary money. Sterling not only has the ability to conduct medical device usability testing, but also has the ability to analyze the performance of the medical device and make the proper adjustments to the device afterwards in the most efficient way possible.
What is Medical Device Usability Testing?
Usability Testing is testing how a medical device is used by the patients and users that will be using the product once it goes to market. This is an important part of the development process because it allows medical device developers to see if there are any usability problems with the device, if the users have an unsatisfactory experience after or while using the device, and it gives them an opportunity to collect valuable data.
Why Usability Testing is Important
If Usability Testing is not performed early enough in a medical device's lifecycle it can lead to a lot of problems for the device, including a device redesign. A redesign later in a device's process could lead to a difficult FDA/CE submission process, a delay in your timeline, and negatively effect your bottom line. On the other hand, if you incorporate too much testing into your device's development process, there is a chance that you can blow your budget early on. It is for this reason that you must be mindful of when you conduct Usability Testing for your medical device since there must be a balance. Sterling has the experience to conduct usability testing in the proper way so that is robust and thorough, without blowing your budget.
Valuing the User with Medical Device Usability Testing
Sterling has found over the years that when devices are designed and developed with the importance being placed on the user and usability of the product, it mitigates risk and saves time during other phases of a device's lifecycle. This is why Sterling incorporates Usability Testing throughout the medical device development process alongside Human Factor Engineering which you can learn about here.
Being Mindful of Usability from the Start
Not only is Usability testing a crucial part of the FDA/CE approval process, but it can also help identify problems and issues in medical devices. If not performed early enough in a medical device's design and development process, small issues can become big problems. That is why Sterling starts to integrate testing for usability at the beginning of the design and development processes. Testing a device from the start leads to finding issues earlier. The earlier an issue is found, the less expensive that issue is to fix in terms of both cost and time.
Using Usability Testing Throughout the Whole Process
Sterling helps clients design devices with respect to usability by conducting usability testing throughout the design, development, and testing process. Usability Testing is a crucial component of a medical device's lifecycle, and FDA/CE submission process, so it is important to keep it in mind every step of the way. No matter where you are in your medical device's lifecycle, Sterling can help you with your user and usability Testing needs.