Author: Erik Hilliard | Date: June 14, 2023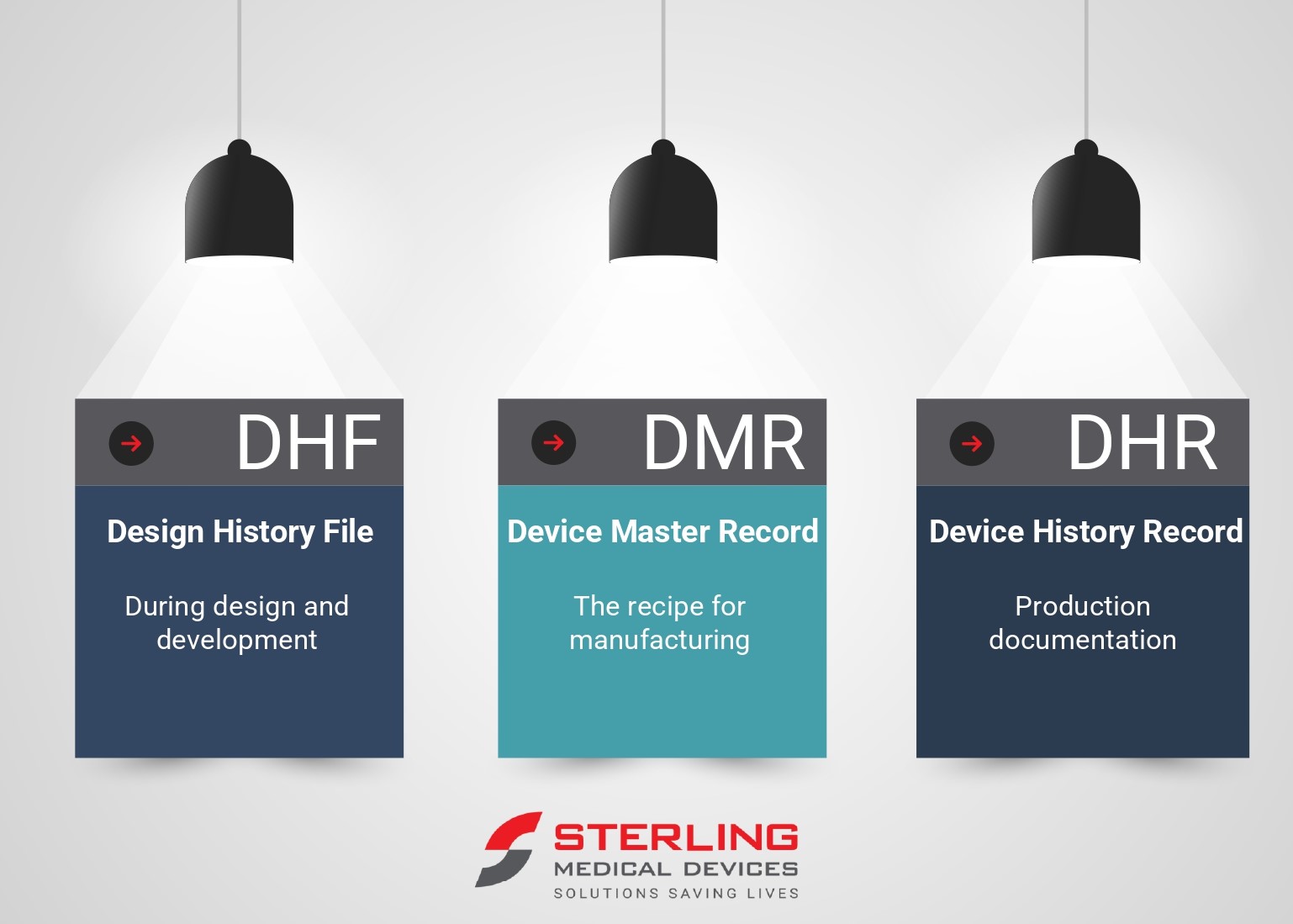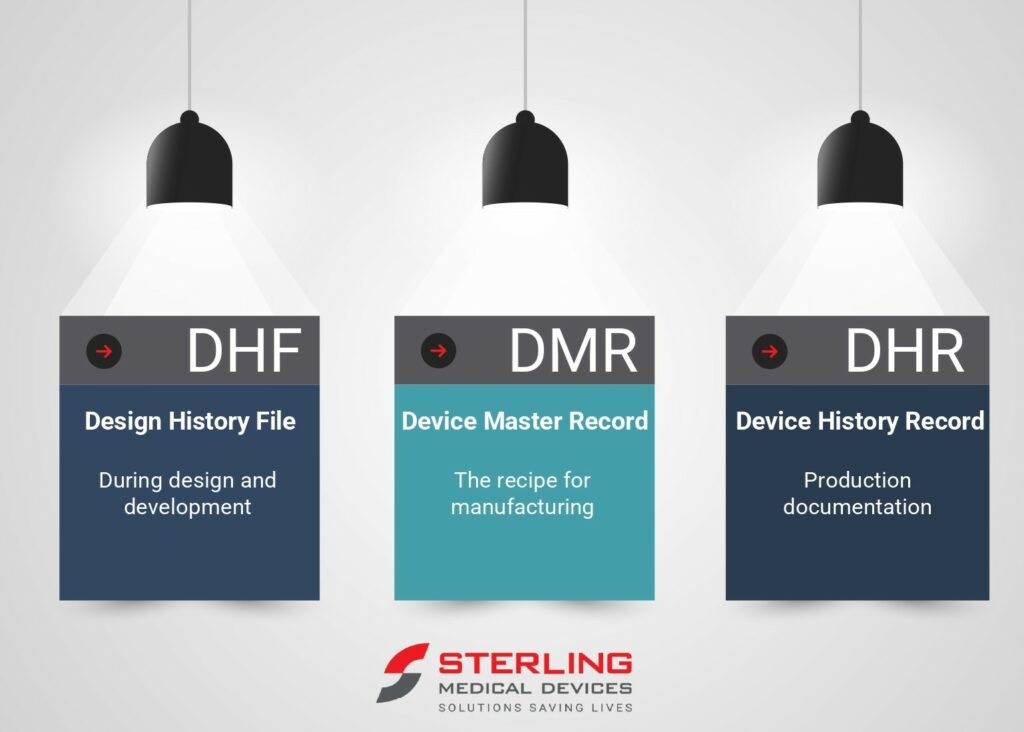 Are you confused when it comes to understanding Design History Files (DHFs)? You're not alone. The complexities of Design History Files for medical devices can be intimidating, but once you understand the core concepts behind compiling your development files, completing DHF documentation does not seem like an insurmountable task. We will demystify the Design History Files process, providing you with essential information so that you can confidently meet regulatory requirements for your device development projects.
What is a Design History File (DHF)?
A Design History File's definition is a set of documents that serves as a comprehensive record of a medical device's design and development planning. A medical device manufacturer must have a DHF for each medical device type. Design History File contents include all the design inputs, design outputs, verification, and validation documentation used throughout the product development lifecycle and design transfer. The DHF in medical devices plays a vital role in ensuring the safety and efficacy of medical devices, as it serves as evidence that the device has undergone rigorous testing and meets the necessary FDA DHF requirements and quality standards. With a complete DHF, medical device design companies can demonstrate to regulatory bodies through design controls that their device is safe and effective for its intended use. Creating and maintaining a DHF is a time-intensive and complex process, but it is a necessary step in bringing a medical device to market successfully.
How is a DHF Used During and After the Development Process?
A Design History File (DHF) is used throughout the design and development process of a medical device. The final step in the FDA's design controls process, as required by 21 CFR Part 820, is the creation of a DHF for the FDA. Although most medical device regulations focus on implementing policies and procedures to maintain quality standards, the Design History File FDA guidance ensures the DHF serves as an organizational tool to demonstrate that the product development process followed the proper design controls and documentation. The Design History File is a crucial part of the FDA's QMS (Quality Management System) requirements for design controls. Ensuring its presence, completeness, and accuracy can significantly enhance your chances of passing the next FDA audit. Design inputs, such as the device's intended use and user needs, are documented in the DHF at the beginning of the development stage. As the process continues, design outputs, such as drawings and specifications, are added to the file. The verification process ensures that the design outputs meet the design inputs, while validation ensures that the device performs as intended and meets the user needs. The DHF also includes documentation of any changes or updates. Once the device is on the market, the DHF is used for ongoing quality assurance and to fulfill regulatory requirements. Overall, the Design History File is a critical tool for tracking and ensuring the safety and effectiveness of a medical device.
How Does a Design History File Support Regulatory Compliance?
In the world of regulatory compliance, documentation is key. A Design History File contains everything from the approved design plan, initial concept sketches, to product specifications, to drawings and schematics. These documents serve as the backbone of regulatory compliance, as they demonstrate that a product has been properly designed and tested to meet all necessary standards, including both design verification and design validation to demonstrate conformity. The DHF also provides a chronological record of changes made during the design process, ensuring that any issues or concerns are identified and addressed through engineering analysis. A thorough Design History File demonstrates design traceability throughout the entire product lifecycle of the medical device, mapping each design input to a design output and recording the design review process. The DHF is a crucial tool for supporting regulatory compliance, providing a comprehensive repository of design and development activities that demonstrates the safety and efficacy of a medical device family.
Tips for Creating and Maintaining a DHF
A Design History File is basically a design and development file. Creating and maintaining the development documentation for a medical device in its Design History File is a critical element of the medical device development activities, ensuring that all necessary information is available to support regulatory submissions and product recall investigations. To create a DHF, it is essential to carefully plan out the documentation requirements through an approved design plan, identify and document user needs and design inputs, design outputs, and maintain a complete and accurate record throughout the development planning process. Once a DHF is created, it is essential to keep it up to date, ensuring that all changes to the device design are documented and that the DHF reflects the latest design information. In this way, a well-maintained DHF can support the long-term success of medical devices, ensuring patient safety and effective device performance at every step of the way.
What to Include in a Design History File
To understand which documents are necessary in a Design History File, it's crucial to closely follow the design control process set by the FDA. Each step generates its own documentation through each of the design control phases. The essential steps of the design controls process and the corresponding documents required are listed in this Design History File checklist:
Design and development plan
Design input, including user requirements specifications
Design output
Design review documentation
Design verification documentation
Design validation documentation
Design transfer
Design changes
What is the Difference Between a DMR and a DHF? What is a DHR?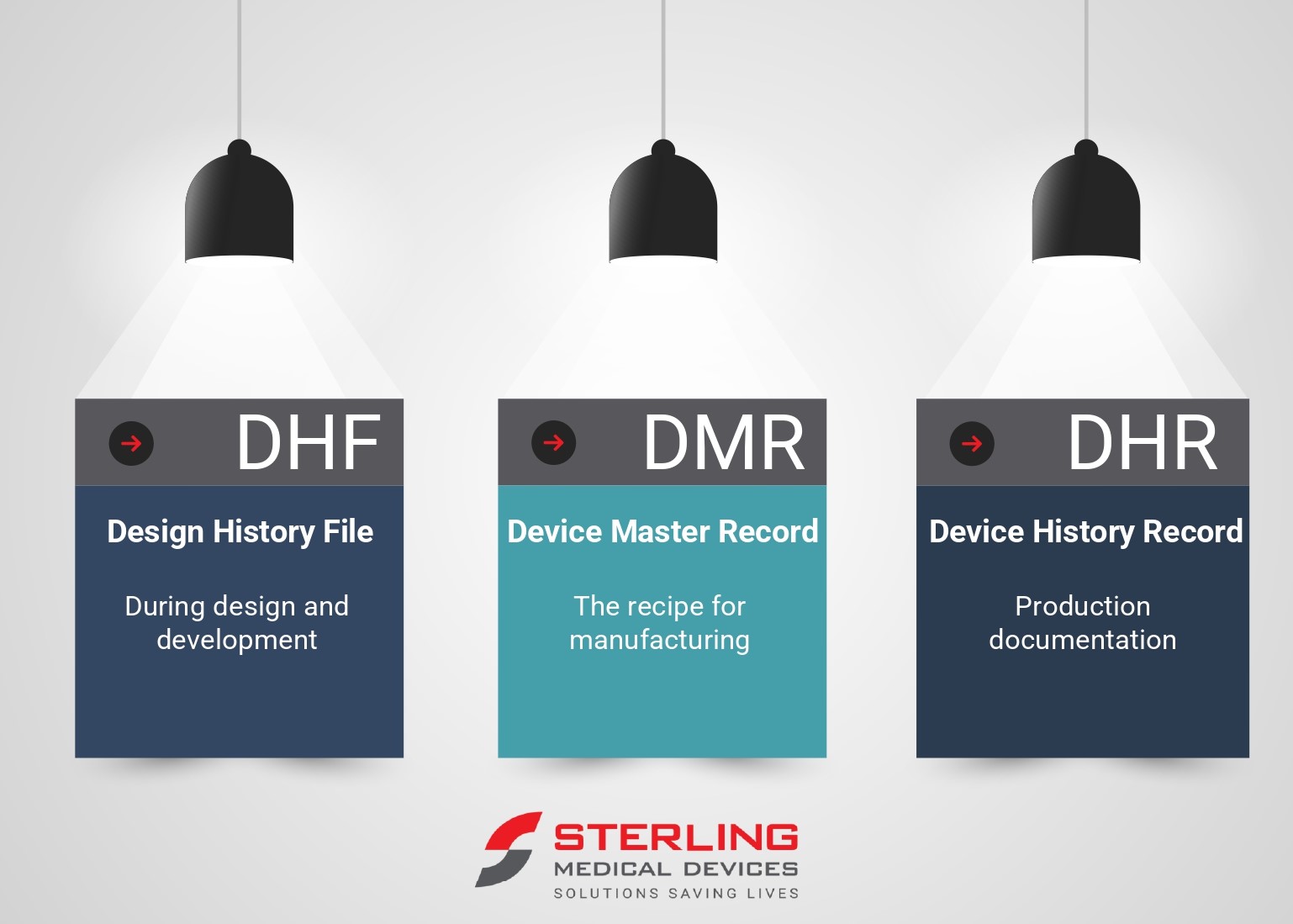 A Design History File contains detailed records of the medical device design, while a Device Master Record (DMR) contains information related to the production and release of the device. And a Device History Record (DHF) focuses on the actual production of the device.
The main differences are:
A Design History File (DHF) of a medical device focuses on the design and development of the device. The design and development files should document the entire design process through design control procedures. A Device Master Record (DMR) focuses on production and release of the device, including design specification, manufacturing processes, quality control procedures, and release criteria. It documents the final, approved design. A DHR includes all the critical information about how the device was produced on the manufacturing line, such as component and device lot numbers, packaging lot numbers, and the results of quality control checks.
A DHF is created during product development, while a DMR is created after the product design has been finalized and approved. A DHR is created after a device has been manufactured.
A DHF is used to demonstrate that design and development activities were properly conducted. A DMR is used to ensure consistent manufacturing of the device according to its approved specifications. A DHR provides essential information that ensures quality control in the device production process.
Clearly, a Design History File is key to successful product development and regulatory compliance. It is essential for documenting all the decisions and processes that went into the design of a medical device, as well as any design and development changes that happen after launch. The DHF allows regulators to observe the development process and assess the potential risks of a device before it reaches market. It's important to create a strong DHF from the outset, ensure it is regularly updated during development, perform periodic reviews on previously completed projects, and archive old data according to organizational standards. To take proactive steps so your DHF is kept up-to-date and in good shape for future inspections or audits, you must implement design controls. Keeping an eye on these details will help you save time and money by ensuring your DHF meets quality standards while reducing non-conformance risk. With proper maintenance and regular updates, a Design History File can be instrumental to successful product development.
Sterling can help you perform any necessary activities to fulfill your Design History File needs. We make sure all DHF needs for your medical devices are complete, accurate, robust, and meet Design History File requirements. Contact us to learn more about our DHF Remediation services.
Share this!